But Something is There, The People
​Steve Neill is the Author and producer of
But Something is There.Steve Neill
has been a special effects makeup artist, filmmaker, model maker and visual effects (VFX) artist in film and television for over 35 years. Neill first worked for
Fred B. Phillips
on
Star Trek: The Motion Picture
as a makeup artist. His first job was to make
Spock
's ears. Additionally he designed and made the appliances of the dome headed alien on the bridge that was applied by
Ve Neill
.
He has worked on many movies such as "Star Trek the Motion Picture", "Fright Night", "The Undiscovered Country", "Ghost Busters" and more. He has produced CGI visual effects for the History Channel, TV documentaries and film.
Steve Neill owns
SNG Studio
in Ventura, California with his partner, Mary Cacciapaglia just 45 minutes North of Los Angeles.
---
Whitley Streiber is Host of But Something is There.
Whitley Strieber is the author of the Communion series of books and many novels ranging from the Wolfen and the Hunger to the Grays and his exciting new Alien Hunter series. Communion, the Wolfen, the Hunger and Superstorm have all been made into movies, Superstorm as the Day After Tomorrow.
Whitley is a Texan, and The Secret School has been listed by Texas Monthly among the top 10 books written by Texans. Alien Hunter is being made into TV series by the SyFy Channel and the Grays is being made into a film.
Whitley is currently at work on a new nonfiction book that will redefine the meaning of the close encounter and UFO phenomena, and will publish Alien Hunter 3: the White House in the summer of 2015.


---
​Paul Gentry is Director Of Photography ,Visual Effects Supervisor and Producer in the entertainment industry working from the practical effects to the digital effects era. I have worked in features films, television and commercials. Such movies as CORALINE, THE FIFTH ELEMENT, ADDAMS FAMILY, ROBOCOP 2, MUPPET CHRISTMAS CAROL, HONEY I SHRUNK THE KIDS, DROP DEAD FRED, AIRPLANE!, DARK HALF, LAST ACTION HERO, MONKEY BONE, FORTRESS, ROBOT JOX and many others both small & large budget. In television I worked on ALIAS, LOST, HONEY I SHRUNK THE KIDS, ROSWELL, LOIS & CLARK & many more. In commercials I worked with the Pillsbury Doughboy early in my career and many other iconic stop-mo commercial characters of the time. I have worked with great people like David Allen, Jim Danforth, Randy Cook, Rob Blalack, Doug Beswick, Phil Tippett along with many other great animators as well as at facilities like Laika, Technicolor, Digital Domain, Encore, Tippett Studio, Praxis, Fantasy II, VCE, Modern Video and others over the years.


---
Powered by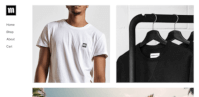 Create your own unique website with customizable templates.